Fitness Center Membership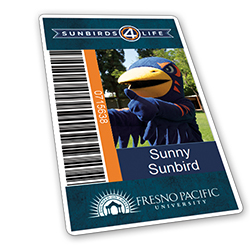 All FPU alumni with an ID card* are eligible for membership to the FPU Fitness Center with evening, weekend and summer access.
Cost:
- $20 per semester (spring, summer and fall) or
- $50 per year
Access hours:
- Weeknights from 7:00 – 9:00 p.m.
- Weekend and summer operating hours
You must already have your alumni ID card in order to purchase Fitness Center membership. Alumni ID cards are available to all FPU alumni for a one-time processing fee of $10. Stop by the Student Life Office in the Steinert Campus Center on the Main Fresno Campus during business hours or call the Alumni Office to find out how to get your card.
Contact Ali Sena with questions: (559) 453 - 2236, alumni@fresno.edu